Your front door can say a lot about your home and choosing the right design can make a huge difference. If you decide on a traditional hardwood door, however, making the right choice can be a minefield.
Let's start by considering your front door as a separate entity to the rest of your interior decor. A handsome solid hardwood door can make a huge design statement in its own right, but you'll need to consider a few simple things to make the best choice for your home.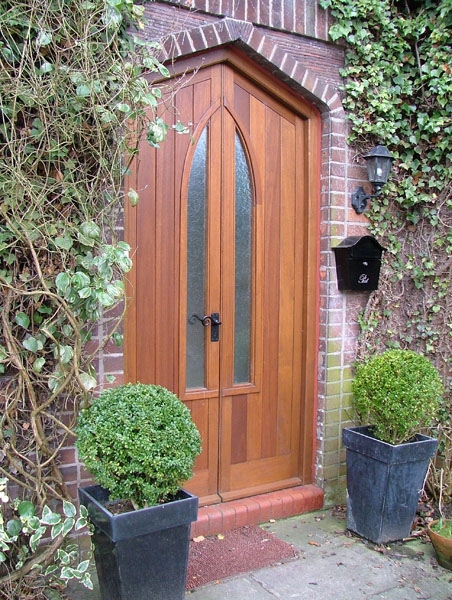 Durability
If you're choosing a wood door, you'll want to keep maintenance to a minimum, so you'll need to consider a wood that weathers well and is extremely durable. American Black Walnut can make a striking first impression, but won't withstand the worst that the weather can throw at it and will tend to blacken unless properly maintained. A better choice would be traditional European Oak, or Iroko – sometimes known as 'poor man's oak' – an African hardwood that is both durable and extremely attractive.
Exterior Style
If your house is of traditional red brick construction, then you may want to steer clear of woods like Iroko or Sapele, which both have a reddish tinge. However, if your house is rendered or has uPVC cladding, both these woods can look extremely striking and attractive and weather well. American Black Walnut would also be a bold choice, but works best if you have a porch to protect it. One on-trend exterior look is for dark woodwork paired with a European Oak door, which is classic, durable and stylish.
Be Consistent
If you're opting for a hardwood door and have a built in or adjacent garage, then be consistent and use the same wood for both doors to create a stylish and seamless look. Again, European Oak is the classic choice but Iroko would create a very different look with its deeper golden-brown hue. Again, both woods have excellent durability and strength.
Ask the Professionals
If you're looking for a hardwood Door Supplier in Manchester then please don't hesitate to contact us. At Darcey Joinery we enjoy a challenge and will be happy to advise you on the best hardwood door to make a real impact in your home.