A bespoke oak staircase can add a touch of traditional character to your home with its pleasing aesthetics. However, you may be wondering how you can ensure you properly take care of such a beautiful fixing.
If you decide to leave the wood unpainted so that you can enjoy the charm of the natural grain, you'll need to care for it properly, so it doesn't wear. The constant foot traffic will wear off the varnish topcoat, exposing the bare wood which can become damaged. The handrails may also end up being covered in dirt and smudged handprints. Proper care will keep the wood looking beautiful and will also help it to last much longer.
Here are some top tips for how to care for your new oak staircase.
Oil
Naked, untreated oak should be oiled immediately to prevent it from drying out. You can obtain a suitable product from your joinery contractor or good DIY stores. Be sure to choose something that's formulated for use on natural wood, as this will contain all the necessary preservatives.
The easiest way to apply the oil is with a small paintbrush, taking care to cover the whole balustrade, including any spindle joints. Allow the first coat of oil to soak in thoroughly, and then apply another layer.
The oil should help to keep the staircase looking new for a long time, preventing it from being worn down as quickly.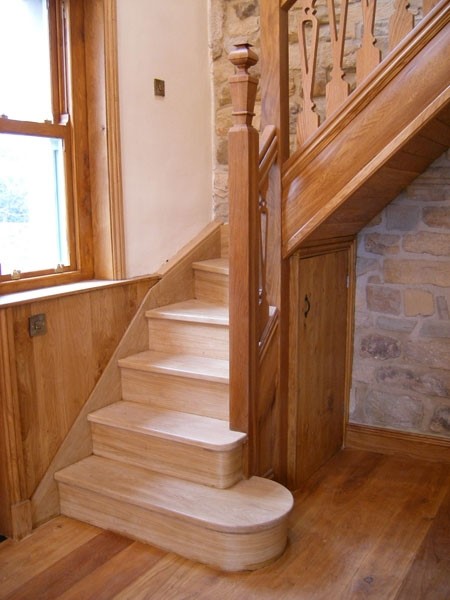 Wax
Once you've oiled the stairs, you could choose to apply a layer of wax to the balustrade. This will give the wood a lovely shine and will offer some protection from dirty hands.
Apply a coat of good quality natural beeswax to the balustrade with a clean cloth, and then polish it up to a shine with a duster. You'll need to apply a further layer of polish every month or so to build up a good glossy coating and polish it up each week to keep the balustrade looking great.
You can remove greasy finger marks easily by wiping down the balustrade with a damp cloth dipped in a solution of washing-up liquid and warm water. When the marks have gone, polish the wood up again using a duster.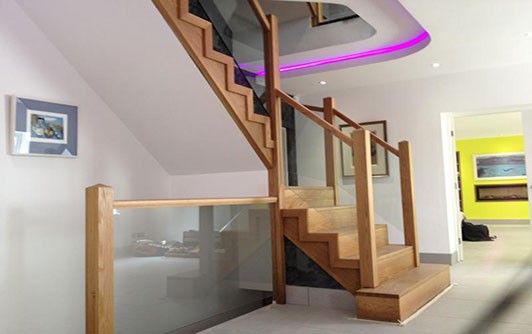 Varnish
You can varnish your oak staircase and balustrade using either clear varnish or something that has a colour tint if you prefer. Varnish will give your staircase a beautiful shine, without the need for repeated polishing and waxing, and will provide it protection from spills and damage from accidental knocks.
Make sure you've sanded and cleaned any dirt, smudges or stains before you apply the varnish — vacuum around the staircase to rid it of dust and wipe down the surfaces with a damp cloth. To apply wood varnish, simply brush a light coat onto the treads, risers and handrail. You can use a foam brush rather than a paintbrush to help create a smooth finish and ensure that no bristles come loose.
Allow it to dry completely, which may take several hours, and apply a second coat. Ensure it is dry once again before you can use the staircase normally.
Additionally, always ensure that any spills on your oak staircase are cleaned up immediately, especially if the liquid is coloured or corrosive. Wipe it up quickly before it has a chance to soak into the wood and stain. If you're not fast enough, you may need to sand down the area and clean the grain before re-varnishing.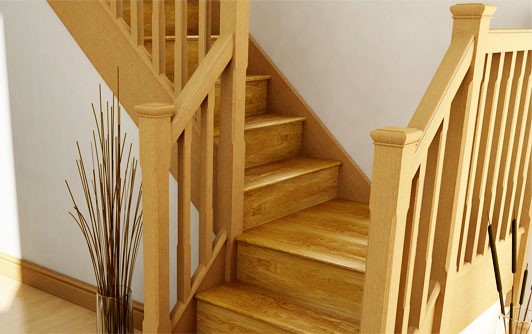 At Darcy Joinery, we specialise in bespoke joinery pieces, including staircases. We can craft you the ideal staircase for your space in a wide range of woods and finishes. If you have a specific design or idea in mind, we would be more than happy to listen and help you bring it to life. Alternatively, our team are ready and willing to help you design your dream staircase from scratch. Our expertly manufactured products are designed to integrate perfectly into your interior design, so you won't need to worry about your new staircase not matching the rest of your home.
If you'd like to learn more about Darcy Joinery, such as our role as staircase suppliers or our services in bespoke joinery in Manchester, do not hesitate to contact us today.