Sash windows have been said to be one of the most recognised, well-respected and truly architectural qualities of British heritage, although there is much speculation regarding the true origins of the window style. Sash windows are elegant, ornate and add charming tradition to any build. They are extremely popular in both modern and time-honoured properties due to their practicality and adjustable opening ability to suit the good old British climate.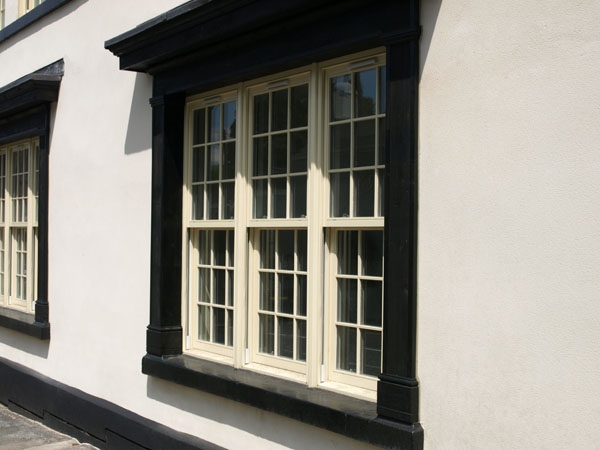 Many accounts claim that the true design originates in Spain, France or Holland, though many British historians will argue that it was invented in England, and the design of the box sash window was in fact attributed to the English Inventor, Robert Hook.
Sash windows, originally installed nearly 400 years ago were originally propped open with wedges or timber dowels until pulleys and weights were first used. The sash window style quickly became popular through Britain and became installed in the majority of British homes throughout the 1680s and 1690s.
The term 'sash' describes any window where the glazed panels open in either a vertical or swinging movement.
Georgian Sash
Georgian windows often had six or eight panes to each sash.
By the middle of the century, the familiar Georgian window that the majority of us are accustomed to had become commonplace throughout homes. Often made from wood, these very early windows were crafted from chunky timber frames to subdivide the poor quality glassed panes of the sash areas. Possibly the most elegant period for our preferred design, the classic six over six pane was the most popular and became even more so during the 1700s.
Victorian Sash
As the Georgian era was slowly replaced by the Victorian, sash windows also changed in appearance and quality. Partly based on technological improvements (particularly in glass), but mostly on the classic Victorian desire for embellishment, resulting in sash windows that became far more ornate and detailed.
Simple lines and detailing were given ornate architraves, window trims and beautiful traditional stone surrounds. This was a popular trait of the late 18th century, and saw fewer subdivides and heavier glass panes. As larger panes became fashionable, rich merchants would use sash windows in order to display their wealth –it being said that the larger the pane, the larger the owner's fortune.
Sash windows offer elegance; style and tradition to any modern or time-honoured property, and can provide a home with simplistic class in architectural design. Here at Darcy Joinery, we are dedicated to being one of the UK's leading bespoke door, window and staircase suppliers, and create one-off and perfectly designed pieces to suit your home joinery creations.
For further information or advice, please feel free to get in contact with our friendly and helpful team on 0161 643 3513 today!