Nothing finishes a home off quite so effectively as a well-placed staircase, and the best thing about these essentially functional features is that they can also be so varied. Many staircase types have been refined and developed over the years, and there are now many available styles to choose from. Here is a brief overview of 5 of the most popular staircase designs out there, and some of the primary properties that they are famous for: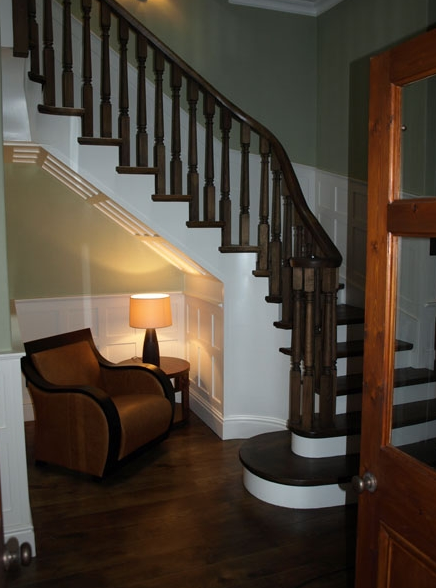 Straight
Straight staircases look very impressive, and they are also hugely practical and convenient to use, allowing you to carry even awkward burdens between floors if you have need. Because they naturally encompass only a single span of steps, they are limited in terms of height, but the visual impact of seeing a long and unbroken flight of steps will ensure that they always remain elegantly eye-catching.
Landing
Staircases can typically have a landing either at the quarter or the halfway point, and this break in the stairs allows them to go higher than a straight span could do, and also creates a psychological 'break' that makes them very comfortable to traverse. As well as serving as a 'rest' point, a landing also adds to the safety of a staircase, as if you trip there are fewer stairs to stumble down.
Winder
Winder stairs result in you turning as the staircase ascends, and can either do so by 90° or 180°. The flowing lines of winder stairs result in a very intriguing feature in your home, and also save space, as they don't utilise a landing. Some people have reservations about the safety of winder stairs, as traditional stairs of this type were often tapered at one side, but this effect can be minimised using the correct construction.
Arched
Arched stairs are curved, as their name suggests, and are a notoriously difficult staircase type to manufacture due to the need to bend the handrail and other details too. With wedge shaped steps, there is little risk of tapering step ends, as could be the case in a winder staircase, and the fluid shape of these stairs is unparalleled in terms of sheer grace.
Spiral
Instantly recognisable and absolutely guaranteed to create a lasting impression, spiral stairs intricately wind around a central post to reach their destination. Able to reach great heights and taking up relatively little room, these stairs are not without their drawbacks – being slow to traverse for one thing – but for contributing to a sense of atmosphere they can't be beaten.
Here at Darcy Joinery, we are a quality bespoke staircase manufacturer, and when we say 'bespoke' we really do mean it; we can create any type of staircase that you might desire for your home. No matter how difficult or tricky your request might be, we are confident that we can achieve exactly what you're looking for. To find out more information, don't hesitate to contact us now by calling 0161 643 0500 or emailing info@darcyjoinery.co.uk. We'll always be pleased to hear from you.